TOYOMARU's Wishes
Our lives have lengthened markedly with the combination of improved living standards and progresses in medicine.

However, is living a long life true happiness?

Good health, friends, fun times with family, eating delicious food, enjoying hobbies. Everyone has a different value of happiness. We pray for a society in which each person can feel happy at every age. That's the type of society we want to create. We want to be an aid in creating such a society. Creating a society where elders can live positivity with hopes.
As the aging society increases throughout the world, we hope that it is one where individual is emotionally and physically healthy. TOYOMARU hopes to apply our base of amusement knowledge in products that will assist in preventing dementia and promote health. With these wishes, we will continue to develop products that are useful for elder welfare.
torepachi!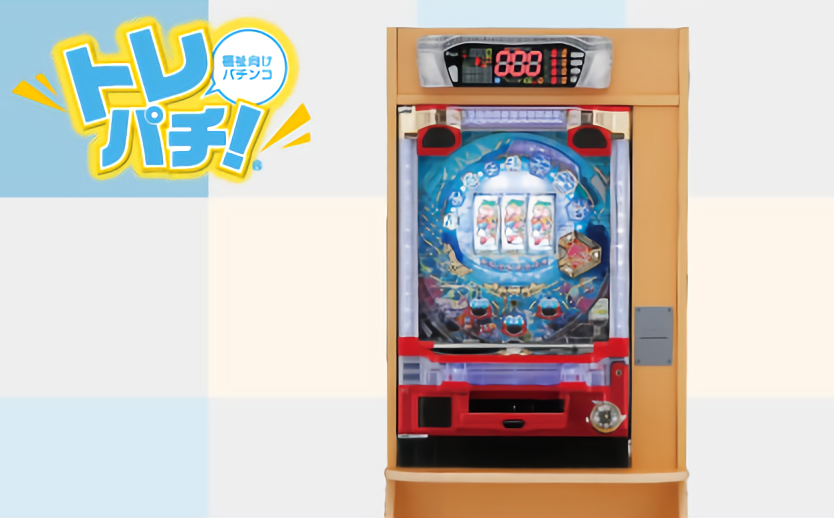 The meaning of "Welfare" dedicated
"torepachi!" resembles Pachinko, but is completely different.
"torepachi!" is a welfare-dedicated pachinko unit that TOYOMARU, an experienced amusement machine manufacturer, has put our passion in. We have worked with close to twenty facilities for the elderly, in cooperation with social welfare providers, and have continued investigation and research for two years. The machine may look like a pachinko unit, but it is a completely different type of amusement. "torepachi!" is an ingenious machine that can be used safely and comfortably while having fun.
Leisure & Brain Training & Exercise
Having fun is the key to continuing

Whether the player is training cognitive functions or training motor functions, it is essential that he or she keeps continues participating for a long time.
If the exercise is only hard and painful, the player will not stick with it even if he or she knows that it's good for their brain or body. The desired effect cannot be anticipated in this case.
The series of games contained in the welfare dedicated pachinko "torepachi!" has been modified to achieve "motivation" and "fun" (activation of nucleus accumbens and corpus striatum) that promote a rehabilitation effect. Various considerations have also been made so that the player can concentrate during training of each area.

Training for cognitive functions

"torepachi!" was designed with advice from experts. The series of games include many elements that are said to "have an effect in preventing the drop of cognitive functions".
The various challenge games in which the player sorts pictures using buttons are thought to be effective in training the "complex attention", "executive function", and "perceptual-motor function", which are part of the six cognitive function areas.
The "Challenge with Buttons" game especially trains the visual perception element of the "perceptual-motor function". "Challenge with Rapid Tapping" game trains processing speed, and "Challenge with Rhythm" trains auditory senses.

Training for motor functions

「We recommend Aerobic torepachi! For active elders who aren't' satisfied with brain training.
Moderate exercise has been medically proven to stimulate the body and brain. Aerobic exercises such as walking, light jogging, cycling, and aerobics are said to be effective for training cognitive functions.
It is important to continue participating at a high frequency. While daily exercise is ideal, 20- to 30-minute exercise sessions three to four times a week are more beneficial than one hard exercise session a week. However, it is a fact that it is hard to continue an exercise regimen unless you are highly motivated.
torepachi! Table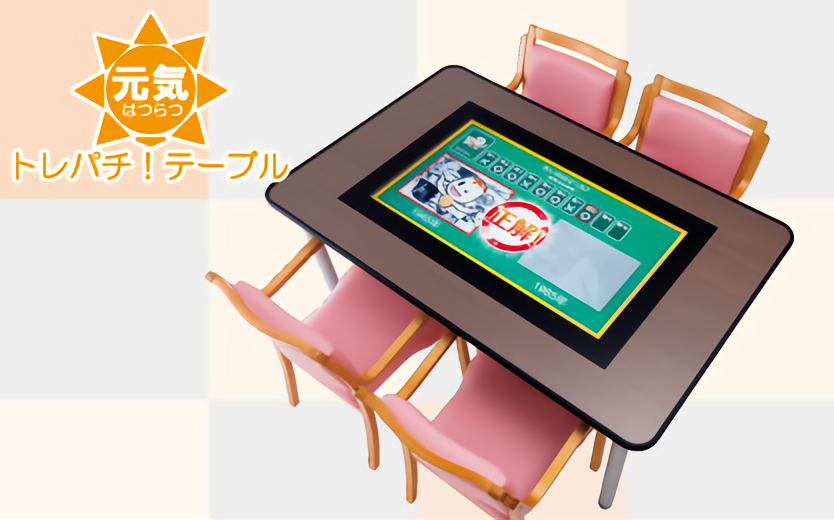 Countless activity possibilities
Helping in various situations
"Sharp & Active torepachi! Table" is a multi-function dinner table that has a function to promote emotional and physical health.
The table supports a variety of applications, and there's no need to worry about the installation space. The ease-of-use and introduction costs vs. effect are bound to be satisfying.
"Sharp & Active torepachi! Table" can be used in a variety of situations including at facilities for elders to provide recreation and to assist in preventive care.
Multi-function type table

"Sharp & Active torepachi! Table" is designed for four people to sit comfortably.
It can be used as a training device or recreation device while it is being used as a dinner table. Do want to introduce training devices or recreation devices, but don't have space?
"Sharp & Active torepachi! Table" can solve those concerns. Just replace one of the facilities dinner tables with a ""Sharp & Active torepachi! Table" to increase the scope of your services.

Freely play your favorite games!

A variety of games are available from brain teasers to exercises for the body.
"What shall we play tomorrow?" Elders will become cheerful as they play their favorite games!
"Sharp & Active torepachi! Table" has multi-person games for everyone to enjoy during the afternoon recreation time.
With countless methods of enjoying, you are sure to see more smiles.

Increase the "Circle of Fun" with everyone cheerfully joining in.

There are fun contents for every gender, generation, and number of players (single or multi-person players).
Elders will become cheerful as they communicate with each other and with staff members.
Family members and grandchildren who come to visit will also enjoy the "Sharp & Active torepachi! Table".
"We'll come again!" - that's what the elders love to hear.

Store and confirm history data

Personal play history can be recorded and saved as data in all applications.
The history data can be checked at anytime, and used to measure the effect and manage health.
Achievement of themes that each application pursues, such as "retentive memory" and "speediness", etc., are judged with a score of 100. (Some applications are excluded). Games that are played over a long time, such as "Travel Through Kyoto," can be continued from where it was left off. This is a great encouragement for the players.